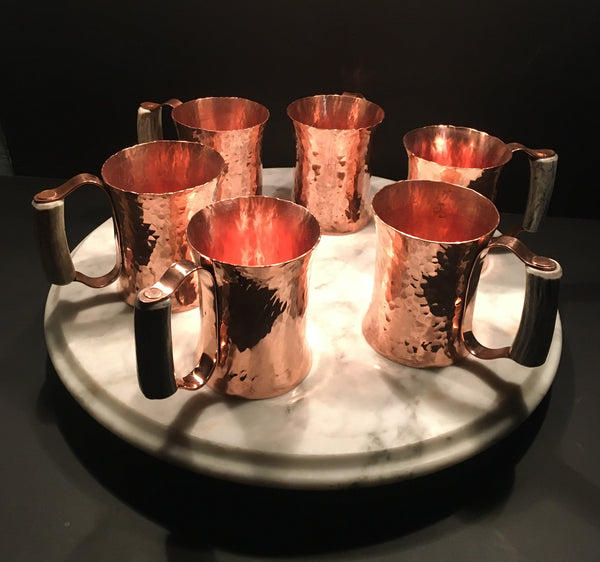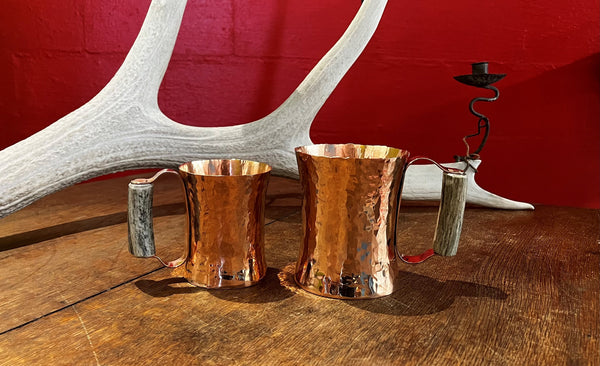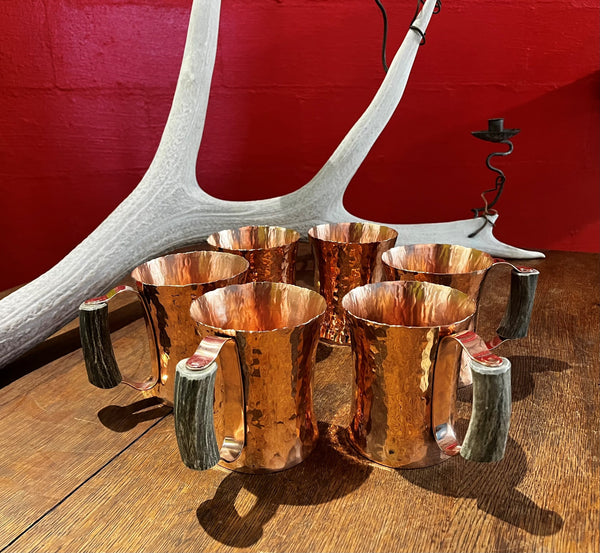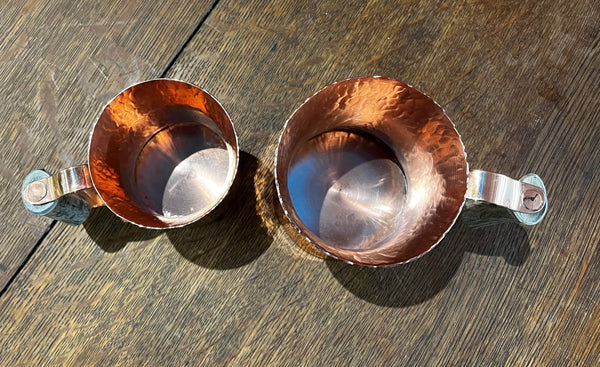 Copper Moscow Mule Mugs
A pure copper mug is the classic presentation for a Moscow Mule.  In fact, bartenders the world over will tell you that if it's not served in a copper mug, it's not a Moscow Mule.
A popular history states that the Moscow Mule was concocted in 1941 on the Sunset Strip in Hollywood, CA by John Martin, owner of the Smirnoff vodka distillery, Jack Morgan, owner of the Cock 'n' Bull pub and his own brand of ginger beer, and Mrs. Sophie Berezinski, a Russian immigrant whose father owned a copper factory where she had designed the original copper mug.  The three worked together to create the perfect cocktail to showcase all three of their products and history was made.
Copper is the perfect material for the cocktail.  Because it is a superior thermal conductor, copper mugs respond to the temperature of what is inside, keeping it chilled or warm depending on the beverage. When the mug contains a Moscow mule, the copper becomes cool, creating a chilling sensation when sipped. This is particularly true for pure, unlined copper mugs like ours.
The cold copper also seems to intensify the fizziness of the carbonation in Moscow mules, making for refreshing sips and an aromatic fragrance. Many say that the copper cup enhances the flavors of the spicy ginger beer and citrus lime.
Today, Ben Caldwell makes each individual mug by hand, forming it using traditional metalsmithing techniques, from a single sheet of pure copper.  He then adds the handle made of a section of antler that is both sturdy and comfortable to hold.
Sold individually in two sizes
Approximate Dimensions:
Medium 10 oz Mug:  Height 3 3/4"
                                Cup Diameter 3 1/4" 
                                With Handle: 5" across
                                Mug holds 10 oz
Large 18 oz Mug:  Height 4 1/2"
                            Cup Diameter 3 7/8"
                            With Handle  5 1/5"
                            Mug holds  18 oz
The inherent nature of our handmade items and the natural qualities of antler mean that each piece is subtly unique.