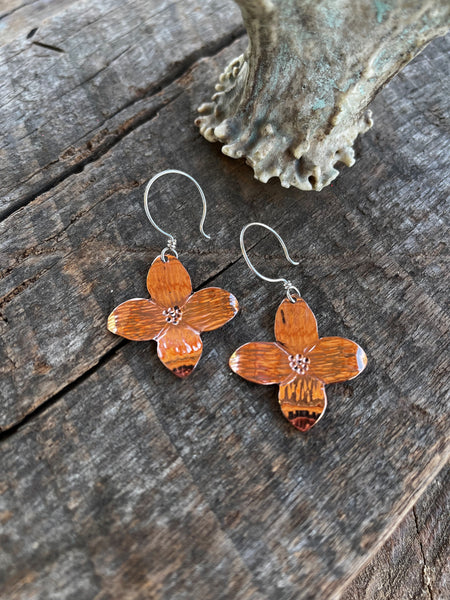 Copper Dogwood Earrings
Traditionally, dogwood flowers symbolize many different things.  Rebirth is the first that we usually think of but they also represent resilience, purity, strength, faithfulness, hope and affection.  Dogwoods are featured throughout Lewis Carroll's book Alice in Wonderland and many people believe he chose this flower as a symbol for Alice because of its purity, innocence, and beauty.  
Today, we enjoy the rich and ancient history of this beautiful flower and its importance in many cultures all around the world.
These beautiful, handcrafted dogwood earrings can be dressed up or down and will be sure to highlight the beauty of the wearer.
Approximate size:
Flower itself is 1 1/8" x 1 1/8"
Flower with hook is 1 7/8" x 1 1/8"
Also available in sterling silver