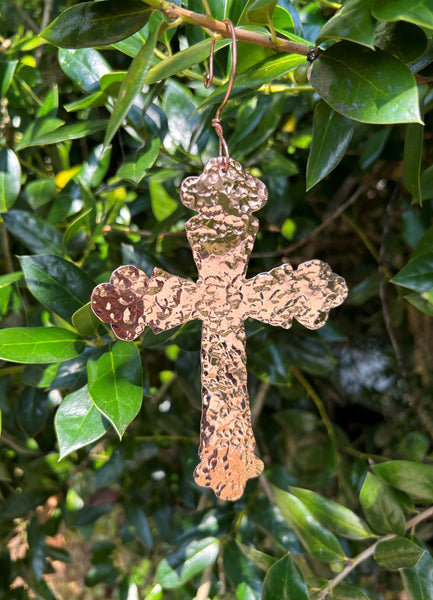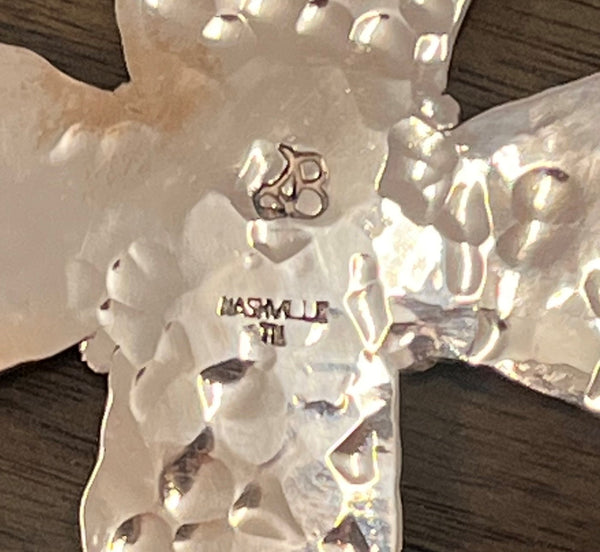 2023 Limited Edition Copper Old-World Mediterranean Cross
Introducing the 2023 
annual Christmas tree ornament from Ben & Lael.

Limited to only 150 pieces
"In 1986, while I was a student at the New York Studio School, I spent 2 months in Greece studying drawing and painting.  This extended visit immersed me in classical Greek design and started a life-long love with the aesthetic.
The shape of this old-world Mediterranean cross is exquisite and the planishing (hand hammered) marks accentuate and echo the curved outline.
The cross itself is made of solid 18-gauge copper sheet and the hook is hand formed of pure copper wire. Both sides are planished which adds to the long-lasting beauty and the planished surface will reflect the lights on your tree in a dazzling display."
  -Ben Caldwell
The cross can also be made without the hook so it can be used year-round at your bedside or on a table. Just let us know in the notes when ordering if you would prefer this option.
This delicately handcrafted ornament features Ben's signature detailed craftsmanship and hammer work.  A true keepsake item to be treasured for years to come.

Exclusive 2023 Limited edition Christmas ornament
Seventh in a collector series of annual Christmas ornaments
Handcrafted from pure copper
The cross measures 5.25 inches tall by 3.75 inches wide
Limited to only 150 pieces
We believe in traditions; in the idea of things being passed between generations and the slow transmission of cultural values through those traditions.
Discover that distinct brilliance in your own home. 
Measures 7.25 inches tall from the top of the hook to the bottom; 3.75 inches wide from point to point.  The cross itself, not including the hook, measures 5.25 inches by 3.75 inches.
---