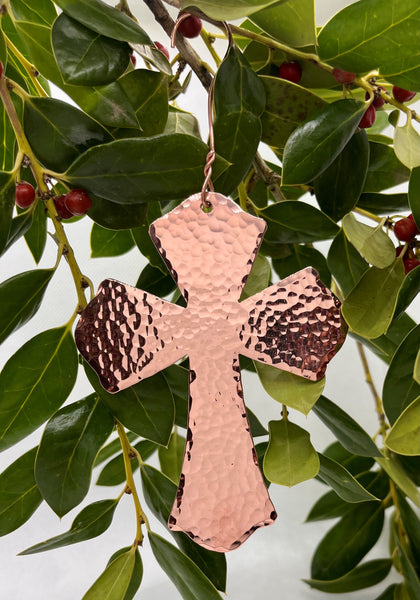 2022 Limited Edition Copper New Beginnings Cross
Introducing the 2022 
annual Christmas tree ornament from Ben & Lael.

Limited to only 150 pieces
"This 2022 Limited Edition New Beginnings Cross is substantial due to the heavy weight of the copper I chose for this ornament.  The simple silhouette is beautiful because I hammer each cross hundreds of times using my favorite ball-peen  hammer.  

I designed this cross as an ornament yet it is large enough that you can hang it on the wall or place it on a table.

I call this cross New Beginnings as a reminder that every day we have the opportunity to begin again."
  -Ben Caldwell
Your  cross will have the copper hanger attached yet you can also replace it with the solid brass nail which we include.
This delicately handcrafted ornament features Ben's signature detailed craftsmanship and hammer work.  A true keepsake item to be treasured for years to come.

Exclusive 2022 Limited edition Christmas ornament
Sixth in a collector series of annual Christmas ornaments
Handcrafted from pure copper
The cross measures 4.5 inches tall by 3.25 inches wide
Limited to only 150 pieces
We believe in traditions; in the idea of things being passed between generations and the slow transmission of cultural values through those traditions.
Discover that distinct brilliance in your own home. 
Measures 6.5 inches tall from the top of the hook to the bottom; 3.25 inches wide from point to point.  The cross itself, not including the hook, measures 4.5 inches by 3.25 inches.
---